Came home tonight before heading out for a show.  Accordingly, the early "show" was the toughie — keeping our 17-month old son, Ivan, entertained.
As I went through my repertoire, Ivan's reactions were thus:
1. Booooorrrrring
2. Heard it.
3. Been there.
4. Done that.
5. That is so last year.
6. Yawn
7.  What?  Wait is that the punchline?  Oh, I'm sorry, I thought you were reading the menu.
8.  Who does a guy need to know to get a bottle of milk up in here?
9.  I've seen funnier wakes.
10. If you tweak that, you might have something.  And, by "tweak" I mean get rid of it completely and have someone else perform other material for you.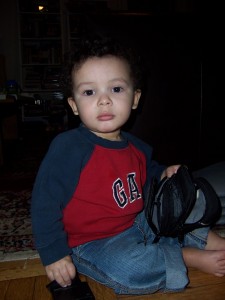 Ivan, bored by my "show"