Friends:
Let me begin by saying this post is my way of saying thanks.  I hope you'll join my mailing list, so that I can properly thank you by providing you with advance notice of my shows, discounts on tickets and other special offers.  To join mailing list, please just go to my HOME page and look on the right hand column.
But, I'm not just asking you to join the mailing list.  Nor do I want to merely say "thanks" and move one.  What I really want to do is take a moment and let you know how truly humbled and grateful I am to all of those who follow my work, write to me, and engage with my family and me on this Blog and on other platforms like Facebook.
As those who follow my work know, the core or focus of my comedy work is about family, specifically my family.  As the White, Jewish husband of a Black woman (who converted to Judaism) and the father of a 10-month old, Biracial son (named Ivan), I focus my attention on the challenges of being a parent in a bad economy and the issues that confront interracial families (including the dynamics between members of the same family who are of different races).
The response to these efforts has been overwhelming.  Indeed, one of the great joys of being a comic — perhaps the greatest joy — is interacting with the audience members and the fans.  I've been exceptionally fortunate to have gotten so close to so many friends and fans of my work.  The support and love of so many is humbling and overwhelming.
I'm particularly moved by how many folks have taken time out of their busy lives to make true contributions – to write in with their support, to offer suggestions, insights, and advice.  And, in some instances, to create original art works inspired by the work I'm doing and my family: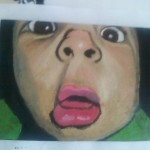 A painting of our son, Ivan, done by fan Jennifer Sassani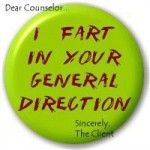 A button, done by fan, Michelle James, featuring Ivan's favorite motto.
So, now, as I said above, my family and I would like to return the favor.  We'd like to show you our appreciation.  So, if you'd like to join #TeamIvan, just please join my mailing list (which you can do on the HOME page of this website).  Each month, you'll get an email from me with an update of what I'm up to and some special offers, which we we provide to as a small token of our gratitude for your love and support.
Thank you!
-Alex (and, of course, Ivan)